What is Camera Optimization?
One of the things that Nx Witness does to simplify the user experience is to optimize compatible cameras. Allowing Nx Witness to optimize cameras is recommended for most systems.
Allow Nx Witness to optimize System Cameras
During installation, users are given the option to "Allow system to optimize devices settings."
If "Allow system..." is left checked (default) during installation of an Nx Witness system then once the system is installed anytime a camera is auto-discovered the first time it is viewed on an Nx Witness client the Nx Witness will modify the camera settings to send two streams - the maximum resolution possible (Hi-Res) at the maximum frame rate (fps) the camera supports, and a secondary low-res stream (typically 480p or 320p on a 2 megapixel camera, for example) that is used for adaptive scaling to reduce CPU and network usage and also for Nx Witness's server-side motion detection analysis.


If "Allow system..." is unchecked during installation then Nx Witness will use the settings of auto-discovered cameras on the network. So, for example, if a customer has an existing system and wants to simply replace their existing software and keep their cameras' existing configurations they would choose not to check the "Allow system to optimize devices settings" checkbox during installation.
The "Allow system to optimize devices settings" checkbox is also available post-installation in the System Administration dialog and can be unchecked at any time.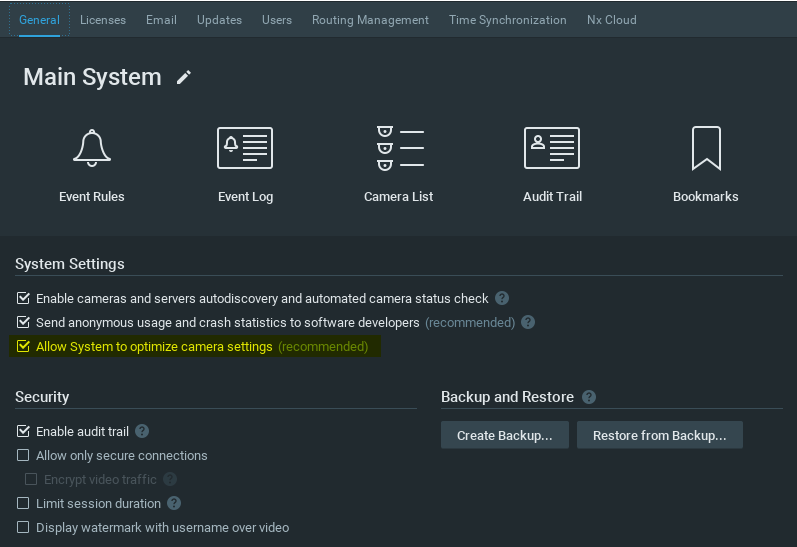 Changing Camera Optimization After Install
If a user does not uncheck the "Allow system.." option during installation (for whatever reason) and then later on wants to adjust the camera to stream at a lower resolution they can use the Expert Settings tab in the Camera Settings dialog to Keep camera streams' and profiles' settings.
This allows the user to configure the camera using a camera configuration tool or camera web page and Nx Witness captures whatever stream the camera is sending without modifying it.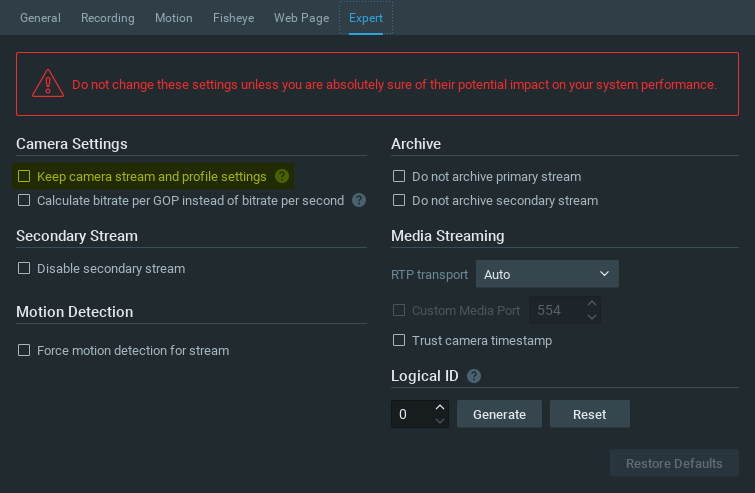 Note: The "Expert" settings tab requires users to understand the implications of what they are adjusting.
Questions
If you have any questions related to this topic or you want to share your experience with other community members or our team, please visit and engage in our support community or reach out to your local reseller.