Nx Mobile 22.1 introduced Server SSL certificate verification options which users can change on their Nx Mobile app:
Recommended (default) - Allows you to connect to VMS Servers with valid self-signed and public certificates.
Strict - Allows you to connect to VMS Servers with only valid public certificates.
Disabled - The certificate will not be checked.
After upgrading to Nx Mobile 22.1, the connection to Nx Cloud is not retained. As a result, users are automatically logged out and must log in to Nx Cloud again to access their Systems, and log in to each individual system, once.
Valid but Self-signed Certificates
Upon logging into your account again and connecting to a Server, the following prompt may appear stating that the SSL certificate could not be verified: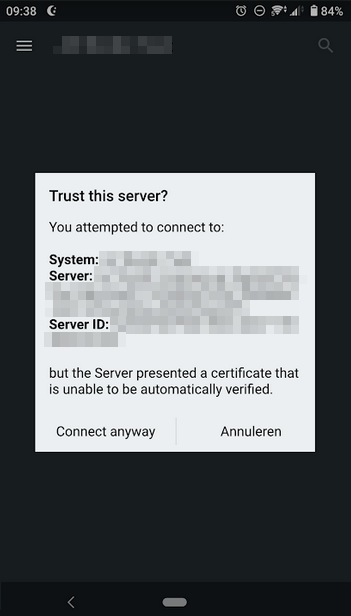 This is usually due to the Server having a self-signed certificate as opposed to a public certificate that can be verified. If you click Connect Anyway, this prompt should not appear the next time you connect to the same Server as long as its certificate remains valid.
Expired Certificates (Self-signed and Public)
If the Server uses a public or self-signed certificate that has expired, the following prompt will appear: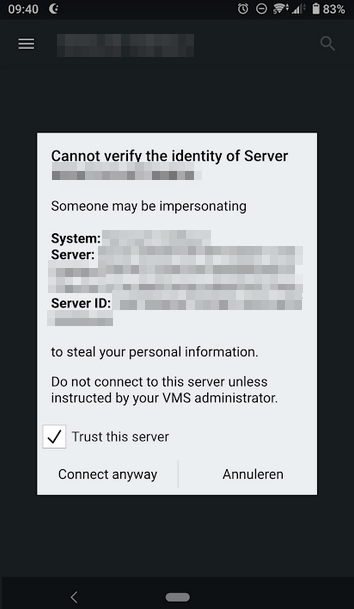 Check Trust this server and click Connect anyway if you would like to still connect to the Server, although the prompt will still appear on every connection attempt until the certificate has been renewed
Checking and Renewing Certificates
To check the Server's SSL certificate validity and information:
Visit the Web Admin and click the Not secure indicator in the address bar.
Click on the certificate's status to open its details
Review the certificate's information such as expiration date.
To renew the Server's SSL expired certificate:
Self-signed certificate - restart the Server to renew its certificate and try again.
Public certificate - contact your VMS administrator to renew the Server's certificate.
Alternatively, you can go to the SSL certificate verification settings and set it to Disabled. Although, this is not recommended since it lowers the security level of the system.
Questions
If you have any questions related to this topic, or you want to share your experience with other community members or our team, please visit and engage in our support community or reach out to your local reseller.